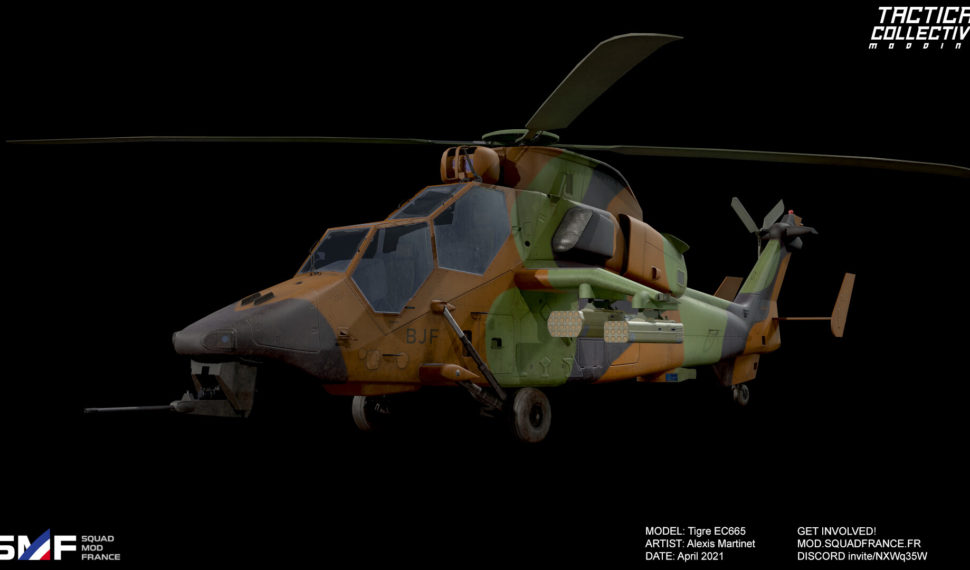 Hey Squaddies!
Most of you are probably already aware… Last month, the big day has finally come, and the mod is at last available in the Steam Workshop! https://steamcommunity.com/sharedfiles/filedetails/?id=2198088821
The French Faction mod contains both 2010 and 2020 versions of the French Army. Both are playable on Jensen's Range and on various layers.
We would like to thank everybody at Tactical Collective for their hard work and making this possible. It is a joy to be finally able to play and share our creations with the public and we are proud of the result so far.
But keep in mind that this is only the first step, the mod is in early beta version and we still have big plans ahead with new content already in the pipes.
For this 30th WIP, we want to share a quick recap of our latest progress, with some small updates but also huge new content coming in!
LECLERC by HCardioid
HCardoid made a wonderful work on the Leclerc Main Battle Tank and the 3D model and it's textures are ready to be integrated! We will add Antennas and Galix to the model during the integration to the SDK.
Our developers are now hard at work to make it playable in the game engine itself!
GALIX 13 by Titoonet
For a more detailed and realistic experience, we have added those beautiful Galix 13 made by Titoonet to the VBCI. We also plan on adding it to the Leclerc MBT and all other vehicles that are equipped with it.
VBL by BORIS
We are working on a complete overhaul of the VBL as the model currently available on the mod's Jensens Range is outdated. BORIS has completed the high-poly 3D model and it looks super promising.
We also plan to work on a VBLL, a longer version of the vehicle with an additional seat. Also, different configurations of the vehicle are planned with various weapons loadouts.
Did you know the VBL is an amphibious vehicle? We plan on making it so in the game when the game releases USMC and their "waterproof" features.
MINIMI MK3 PARA by Pawin and BORIS
The Minimi Mk III Para model was done by Pawin a long time ago and although it looks great, it needed a bit of a refresh and love for better accuracy and realism. This was done by BORIS.
Being the most recent Minimi Mk III used by the French Land Army, it will be included with the 2020 Faction.
CE French camo pattern on British soldiers by JO_CMD
Getting tired of all those desertic layers in the mod? With this retexturing of the British soldier with Central Europe Forest camo pattern done by JO_CMD, we will have more biome variety. We will open new layers on forest biome maps, making forest camo vehicles and troops finally playable.
Please keep in mind that this retexturing is still temporary. JO_CMD is also working hard on our own infantry model.
MO 120 TR F1 by Exo
Thanks to Exo and Medinar you may have already met the MO 120 TR F1 with updated model and textures in game. Here it is featured in its desert and forest liveries.
MO 81 LLR by Biohog
For more gameplay choices, we are also working on a smaller caliber mortar. The "Mortier de 81mm Léger Long Renforcé" is a mortar used by the French army since 1997. It can be paradropped and will be accessible to infantry units (standard and paratroopers alike). We welcome Biohog back after his long absence and are happy to see him work on this project.
ANGENIEUX 8X30 by Pinwheel
Since the last post , Pinwheel finished the texture of the binoculars , and the model is now available on the 2020 soldiers equipment.
AIMPOINT CompM5 by HCardioid
HCardioid has finished the texturing of this optic and it has been pushed in our latest update on the HK416, along with the 2020 faction and weapons. You can already try it out in layers with the proper faction.
ELCAN SPECTER DFOV156 by Shyro
Our newest recruit Shyro has made some good progress on the texture of the ELCAN Specter dual zoom x1.5 – x6 scope.
It will be available as one of the scopes for the HK417.
DCL 120 by Joemefirst
As you may have noticed on the pintle mount of the PUMA, we also plan to add optics to the 12.7mm FN M3M that will equip our NH90 helicopters. Joemefirst has finished the model and its texture and we are excited to integrate it soon.
PUMA SA 330 and NH90 CAIMAN rework by BORIS
We would like to thank Offworld Industries for giving us access to the models of both the SA 330 PUMA and the NH90 CAIMAN. With that, BORIS was able to remodel the nose of the PUMA and retexture it with French colors.
We are planning to add various weapon configurations for those and maybe some surprises in the future.
Thanks to Medinar the PUMA is already available in the game and you may have already boarded it!
EC 665 TIGER by Alexis
Yes ! We plan to add a playable version of the Tiger attack helicopter.
Alexis will improve his model with our help to bring this beautiful baby to Squad battlefields.
TOPOWL Helmet by JO_CMD
JO_CMD is doing a wonderful job with the French soldier character modeling.
Here you have an example of the future NH90/TIGER 2020 helicopter pilot.
DOUENTZA update by Noxxid3
Thanks to the amazing financial support by the community, we were able to purchase assets that suit perfectly with the Malian desert.
Here is a sneak peak of the integration of those assets by Noxxid3 in our Douentza map.
---
As usual, we will keep you informed about updates and our overall progress. Please have patience for we are as enthusiastic at the prospect of improving this faction as you are but do not forget that we work on this mod in our free time.

Thanks for supporting us and our work.