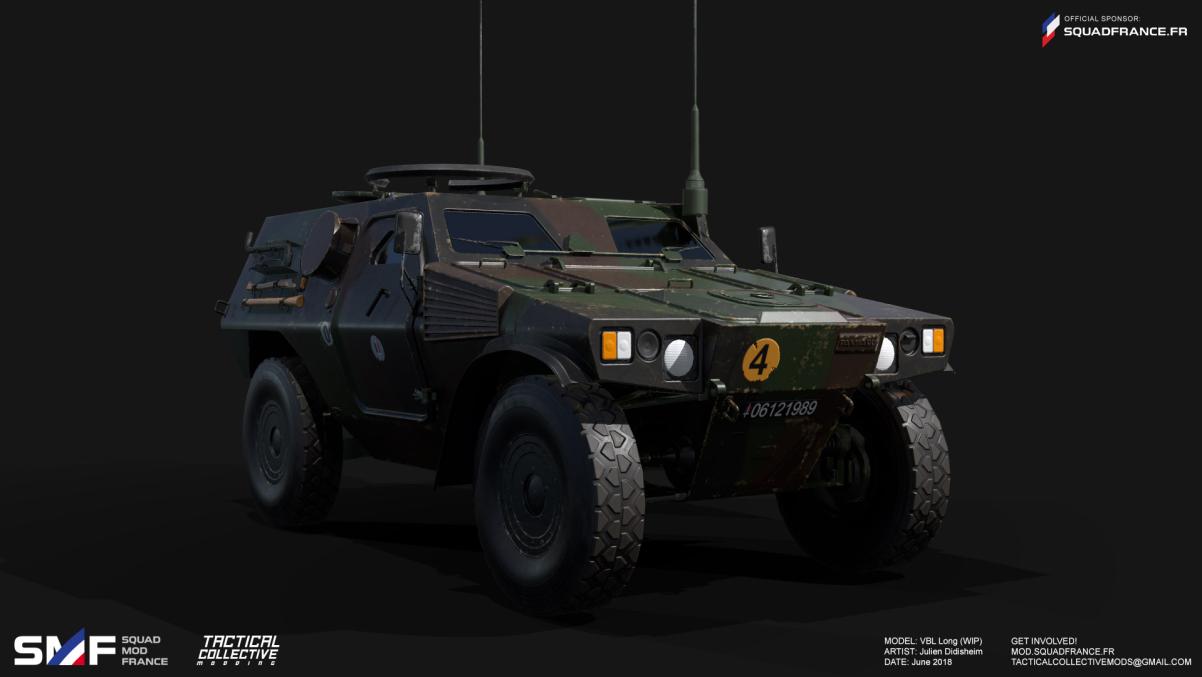 VBL by Izzir
We're once again very proud to present the VBL by Izzir (Formerly Didish), which is very close to be fully done. This vehicle will serve as a fast attack, lightly armoured reconnaissance vehicle with a machinegun on top. This vehicle along with the VAB, AMX 10 RC and VBCI represents the offensive side of the factions' vehicles.
*VBL = Véhicule Blindé Léger
FAMAS Infantry by Drakoliche
Drakoliche is making a new version of the FAMAS called the FAMAS « Infantry ». Enhanced with a picatinny rail, this FAMAS allows the soldier to easily put optics like the Eotech on it. We know you all want to play with the FAMAS, so don't worry, Drakoliche will realise your dream!
FAMAS animation by KaB & Sound by SimO
KaB (from OffWorld Industries) has offered us his precious help by animating the famous french rifle. You can see a FAMAS G2 which is a former model made by Drakoliche and used here as a base for the animation.
The sound following the animation has been added by Sim0, our sound designer, who is working hard to make the mod as immersive and as accurate as possible!
J8 Scrome sniper scope by Bonfunk
How can you shoot accurately with your HK417 if you haven't got a scope ? This is what Bonfunk has done: A nice J8 scope ready to be mounted on a sniper rifle. And after his 120mm mortar, Bonfunk provides us a new high quality model.
Milan by Anastasia
After the arrival of the TOW within Squad, we of course decided to work on our own AT asset. The Foreign Legion will be using the MILAN system, which is a wire guided missile capable of taking out heavy armour. Once again Anastasia has gone above and beyond, creating a spectacular like for like model. Follow this page to the end to read Anastasia's interview.
Bayonet by Baby_James
You can see here a very beautiful and detailed combat knife of the french army, created by our Creative Director Baby_James. Even if the knife is not a main weapon in the game, here is the proof that the artists of the Tactical Collective never overlook their model (Notice the Foreign Legion symbol on the blade.)
White Smoke Grenade by Baby_James
We've previously displayed our coloured smokes, but this time we have the white smoke grenade or 'Fumigene 56'. Baby_James has reworked his original model, representing the constant improvement and increasing standards within the team.
Mapping by BobbyJ & Legion

While Legion is working on the overall map, Bobby is producing all the items needed to make this map as real as possible. Moutains, trees, grass… all those details will place the player in an environment very similar to what you can find in Mali.

Legion drawing the roads and landscapes of the map.
Acacias trees, desert grass, and distant mountains created by Bobby
INTERVIEW OF A 3D ARTIST: ANASTASIA
You were a lot to admire her AMX 10 RC wheeled tank, and we are glad to interview her today. Here is Anastasia:
Watch and support her work on her Artstation profile: Artstation Anastasia Ozz033
1 / Anastasia, I can say you are Russian and you are one of our rare women working in the Tactical Collective. But can you tell us more about you ?
I was born in Chukotka. This is part of the north of Russia on the coast of the Bering Strait. I draw since childhood, so I studied at the University at the school of design. In addition to CG art, my passion is horses. I wanted to become a veterinarian, but I was afraid that I would not pass the necessary exams. Some time I worked on the racetrack, prepared trotting horses, as well as I participated in races (even the first place is). I also love tattoos. Now I have five of them, but there will be more 😉
2 / How did you start to create 3D models ? And is it now a just hobby or a real work ?
I started studying 3ds Max at University when I was studying to become an interior designer. Some time I was engaged in interior visualization, but I soon became uninteresting and I decided to study 3D modeling more deeply. After self-study, I found my first job at CG. It was a small animation Studio, which was opened by my friend. I created characters, elements of the environment, studied simple rigging and simple animation. Later I found XYZ school, where I went through a super intensive study of pipeline and technical aspects of creating full game assets. During the training in it, I met with the Collective.
3 / Since 2017, you are part of the Tactical Collective, which develops the French Mod for Squad. What were your expectations and objectives by working in this team ?
I have tried to cooperate with such teams before, but it did not lead to anything, because there was no necessary coordination and organization in the groups. But the Tactical Collective does not have such problems 🙂 All the very organized and responsible approach to the matter, which I really like. Basically I wanted to get an internship on an actual project. Before working on the mod, I did not work in gamedev.
4 / Of which of your creations, out of the mod, are you the most proud ?
I have only one ready-made work for the mod, it's AMX 10 RCR. But I'm improving, honestly 😀 I like it very much. I did it for a long time, sometimes it annoyed me (when I failed), but due to this I now work in the russian game studio.
=> You can find her AMX in our previous WIP here: Work In Progress #15 AMX10 RC
5 / What kind of object do you prefer to model , and why ?
I love the variety of work. I don't like doing the same thing because it's becoming a routine. I like to solve different problems.
6 / can you say something to motivate and advise people who want to start 3D modeling ?
You should love what you do, not be afraid to ask for advice, to accept constructive criticism and not be afraid to experiment 🙂
7 / As always, I let you close the interview with a nice message to the people of the Squad Community:
I really like all the guys in the team, I like to communicate with you. I pull with you my English 🙂 You are all great and we will succeed!
That's it for this month, we hope you've enjoyed taking a look at what the team's been up to, and hope that you're as excited as us about the final product !