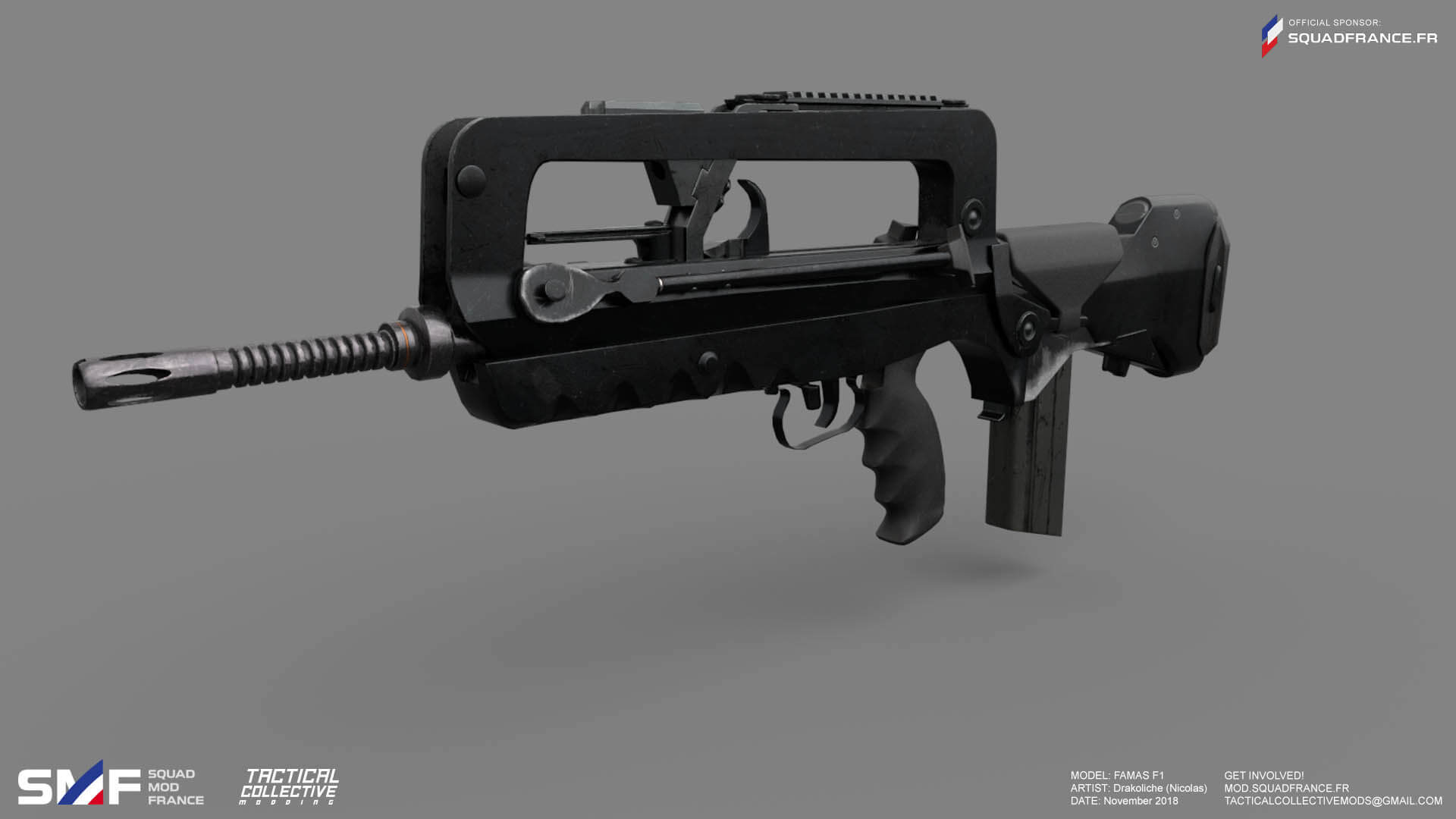 Hi everyone !
After a month of progress and not much news from us, the time has come to show you the work completed by the artists of Tactical Collective for the French Foreign Legion Mod. We hope you'll enjoy !
French Character by Didish
You should have seen in OWI's Modding Wrench that Didish started to scan his friend to make a pretty French face. At the same time, he is working hard on the entire character, equipment and anatomy.
Douentza Map by Legion
You already know it because we quite often show the progress. But due to its large size (8km x 8km) and the level of detail in each part of the map, Legion spends a lot of time working on it and extending the playable zone with immersive landscapes.
France Map by XanderDal
With the Foreign Legion, we want to make you visit some part of France. That is what XanderDal is trying to do by making a Map taking place in the forest of Northern France. The first screenshots are already wonderful and we are very excited to fight for French territory ! The forests will be littered with trenches, military outposts and farms. Think of it as a hastily built Maginot line!
HK417 by Bonfunk
You've already seen a HK, but unfortuantely its production was stopped, but now we have a new master to take the reigns. Bonfunk came back stronger than ever and restarted the entire model with a new software, finally offering us what will surely be a new masterpiece. This rifle will be assigned to the Marksman kit, and we can't wait to fire the first shot with the Scrome J8 optic (made by Bonfunk too). You can catch Bonfunks interview at the end.
FAMAS F1 Infantry Version by Drakoliche
Drakoliche created the FAMAS G2 a long time ago, and we used it for animation and sound tests. But what you can see here, is the version handled by the French Legionnaires, with a picatinny rail ready to get some nice optics. The render is beautiful and we will integrate it in game as soon as possible ! PS: No doubt that this gun will shoot some famous french rifle grenades 😉
Mortar Props by Baby_James
Bonfunk modelled the 120MM Mortar, and Baby_James gave himself the task to add a nice environment for the mortar. He created the shells and transport crates to put around the mortar and make it as real as possible.
---
We post next an interview of Bonfunk. It was done many months ago, but we never shared it on this website. For those who don't know who is Bonfunk, we are glad to introduce him for the second time !
ARTIST INTERVIEW: BONFUNK (3D Artist)
Today we want to introduce you one more of the talented artists who is working on the first project of Tactical Collective: Squad Mod France.
1/ Bonfunk, can you introduce yourself to the readers ? Where are you from ?
Hi folks. My name is Ian Bonifačić, also known as Bonfunk. I come from Zagreb, Croatia, a small country on the Adriatic Sea.
2/ What do you do in your life ? Where are you working or studying ?
Last year I have finished my masters degree in industrial design, but I work as a 3d artist in a local company Studio Niskota. Most of our work consists of archviz, but we tend to test ourselfes in other fields as well. In my free time I do a bit of gaming and skateboarding.
3/ When have you joined the Tactical Collective Studio ? And what were your expectations by working in this team ?
I have joined the Tactical Collective Studio in July of 2017. When I first joined the community I have instantly noticed the friendly atmosphere and the cohesion of the group. I really didn't have any expectations, but I can say for sure that I wasn't expecting such a warm group of people helping each other, and this level of organisation and commitement we have going on right now in the group…
4/ Why did you decide to work with French people on the French Army ?
I guess it was a lucky pick. I was really looking for something to do outside of Archviz Industry concerning digital art and 3d. So my first thought was why not try to make some assets for a game. Googled what was popular with mods, and here I am. TC was the first discord I have joined and been a member ever since. Love it so far.
5/ Can you describe your role as 3D Artist in this virtual studio, and the differences with a professional studio ?
I don't think I have a certain role except being a 3d artist in the community. I basically check the list of the models needed, pick one I like and start working on it from start to finish ( modeling, unwraping, baking, texturing, implementation in UE). One big difference is that there is no real pressure since this isn't a paid job, more like an opportunity for me to work on my skills, improve my workflow and contribute to the community. I don't do as much painting on my job, ain't nobody got time for that.
6/ Have you a personal message to send to the community ?
Hopefully you guys will like what we produce for you! Please if you are interested in the mod, we always appreciate feedback from the community. Help us out, give us pointers or your oppinion on stuff we publish. It means the world to us. Thank you for your time. »
Bonfunk is the creator of the 120 RT Mortar, which is definitively a beautiful masterpiece, and also the Scrome J8 Optic and HK417. You can appreciate his work on his Artstation profile https://www.artstation.com/bonfunk and i recommand you to take a look to the 3D free look of the mortar, and check the level of details.
If you like his work, leave him a thumb up or a comment on his profile to support him !
And to finish, here you can find all our last WIPs regarding the French Foreign Legion https://mod.squadfrance.fr/all-recent-updates/.
Thanks for reading !
Follow the mod and the modders:
ModDB: https://www.moddb.com/mods/squad-mod-france
Youtube (Baby_James): https://www.youtube.com/channel/UCzRGWIERjGSLVrFZdREHLNQ
LinkedIn: https://www.linkedin.com/company/tactical-collective-modding/