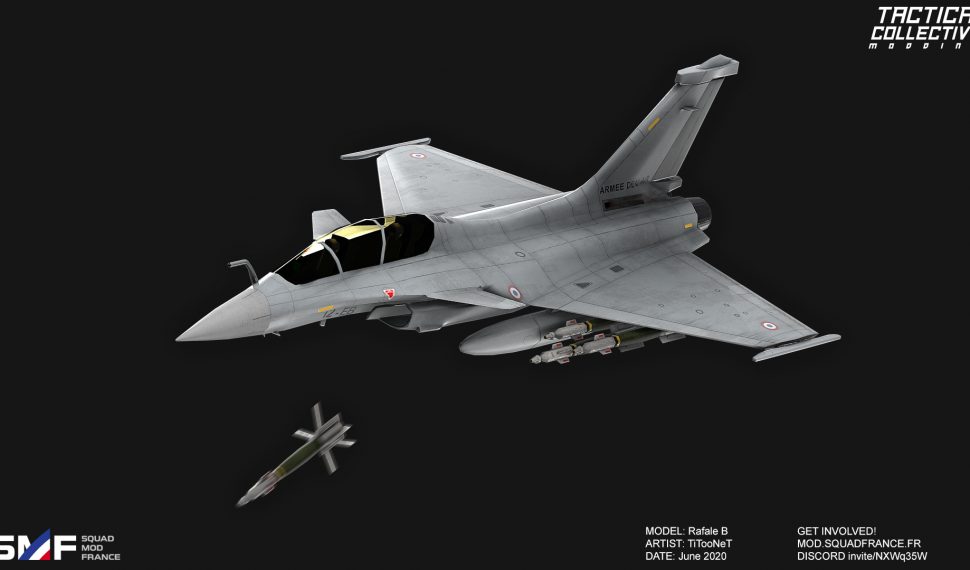 Hello Soldiers!
The Tactical Collective Team made an amazing job this month, a lot of progress has been made since WIP #22.

We are proud to present to you today our hard work and we hope you like it.
Rafale B & Precision Bombing made by TiTooNeT & Medinar
With the help of Medinar and the skills of TiTooNeT, both have succeeded to create a Rafale B Precision Bombing.
MQ 9-UAV Texture by DanielSMA
DanielSMA retextured the MQ 9-UAV model from OWI, into the French Air Force colors.
Famas Handle & Pirat by TiTooNeT
To pimp our Famas TiTooNeT made a laser designator PIRAT(not functional as you have on the M4), a special mount with the grip.
VAB 12.7 by TiTooNeT
TiTooNeT made one on three versions of the VAB, the other ones will be the VAB 7.62 and the VAB ULTIMA.
Mine AC by Drakoliche
Drakoliche has finished the Anti Tank Pressure Mine AC PR F1.
GBC 180 + Vector IV Integration by Medinar
Medinar worked on the integration of the GBC 180 made by Hcardiod with functional lights for the dashboard and another cool feature the Range finder Vector IV that you have seen before.
Milan 2 by Anastasia & HEx
As you can see, the MILAN anti tank wire-guided missile is a common asset of SMF and Bundeswehr Mod Squad. As we needed modifications on it HEx reworked Anatasia's model.
We hope to continue our cooperation with BMS Team.
You can find their job on their Discord and their website.
FAQ
We will do the FAQ post next month and if you wondering things about the mod ask us questions on the discord!
JOIN US!
You are an established modder, 3D artist, 3D animator or UE4 programmer? Join us! hit our discord recruitment channel to tell us about yourself and your abilities.