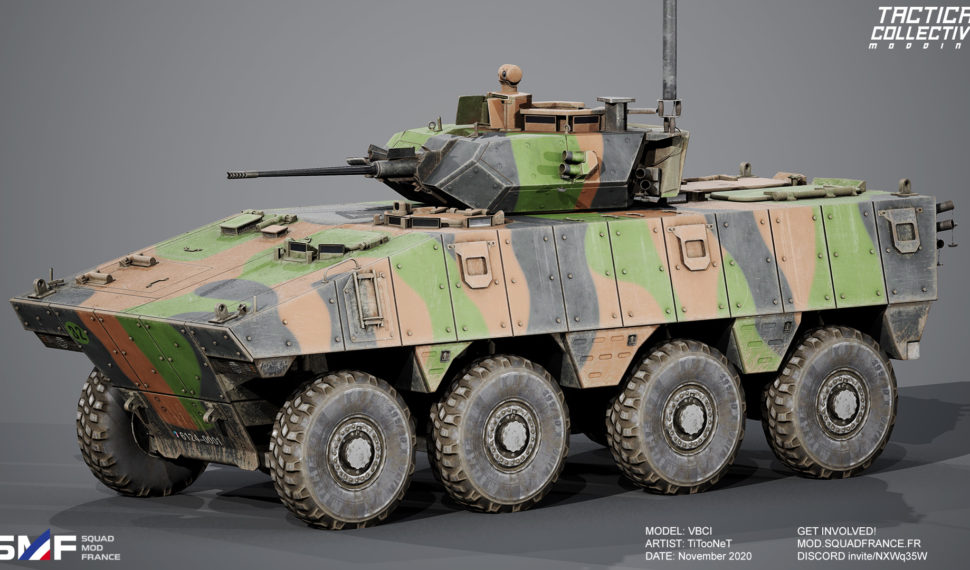 Hello Squaddies,
We got some exciting news for you this month, and boy has it been busy. We would love to have a play test at the end of December or early January. This isn't guaranteed just yet but it is a time frame we are aiming for, we are still getting it ready for play testing. It will include the Mali map in a skirmish layer, infantry kits and logi's of course.
We got fresh croissants out of the oven for you this month, so get ready for a tasty one.
FAMAS by Drakoliche
The Famas remodel is going smoothly and Drakoliche has been working on it diligently. The model is finished and man look at this beauty. Get ready to have some fun with this classic weapon. (soon Squaddies, soon).
SCROME J4 F1 by TiTooNeT
The Scrome J4 4x scope is ready to be mounted on the HK416, Famas and finally the LMG Minimi.
HK 417 with S&B PM II by BORIS
HK Fans we present the fully modeled and textured HK417, chambered in 7.62. This bad boy is ready to join the fight! (Will come with a bipod, don't you worry).
HK 416 FS and FC by Joejomefirst
I know a lot of you were waiting on screens for the HK416, and here it is (With two variations!). The textures on the FC and the FS are still cooking in back, so hang onto your baguettes as they're coming soon.
AIMPOINT COMP M5 by HCardioid
HCardioid has been working on the Aimpoint which will be on the HK416, i know some of you are excited for this, he did a great job with this. (textures are a work in progress).
SG 2000 WC F by TiTooNeT
TiTooNet did an amazing job on the bayonet for the HK416, and is ready to be implemented into the SDK.
MAG 58 by Exo
The L7A2 GPMG has been converted to the French version of the MAG58, Exo created a new picatinny rail and a new buttstock to adapt the OWI model.
PETARD 250 GR Animation by JabbingJipson
Jabbing did a great job creating a lovely animation for the Pétard 250, a demo charge for the combat engineer role, enjoy this eye candy.
AT4 CS by JO_CMD
JO_CMD created the French version of the AT4 as its a different model than the British and US use. Currently the textures are still being worked on, but we wanted to show you some progress on the HAT kit.
GB Soldiers with French Camo by JO_CMD
Due to not having a character modeler, we opted to create the Camo on the GB soldiers right now, we did this to give you guys an idea of what the character models would look like.(We are looking for a character artist/modeler for the faction, if you know any one reach out to us on discord!)
FRENCH FOREST by Xander and Noxxid3
More work on the French forest map has been done, and its looking really nice. They recently added new foliage (which is a WIP, and subject to change) to add a more natural feeling to the map.
Thanks to TiTooNet for the Fences and Palplanches, and the house is from LieutenantK.
VBCI overhaul by TiTooNeT and Integration by Raphy
The overhaul by TiTooNet is finally done and the integration is being done by Raphy, this was a needed addition as it improves the french's vehicle capabilities against other faction's armor. Comes with a 25mm main gun with a max rate of fire of 400RPM. (can be changed for balance).
Trello updated
Trello has been updated, everything here is subject to change including the play test time.
---
We wish you all happy holidays !